Beyond Posthuman Theory: Tackling Realities of Everyday Life
Keywords:
Posthuman, Theory, Practice, Philosophy, Neuralink, Economy, Religion, Existence, Existential, Posthumanism, Praxis
Abstract
The COVID-19 pandemic has placed us all in front of an existential mirror: Who am I? Who are we, as a society, as a species, as a planet? Many of the old anthropocentric habits based on the foundational myth of human mastery of the world no longer work. The Anthropocene, and all the related environmental emergencies that are happening, are co-caused by the unbalance created by human unsustainable practices of living, behaving and trading. We are at the forefront of a paradigm shift, which is calling all of us to action. Academics have the duty to confront themselves on these issues: Thinking must be followed by actual change. The actualization can be challenging and intense, but is also cathartic, regenerative and empowering. In this text, we will address compelling questions for the 21st century, related to posthuman economics and emerging technologies, sustainable ways of living and existential praxis.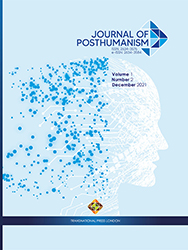 Downloads
How to Cite
Ferrando, F. "Beyond Posthuman Theory: Tackling Realities of Everyday Life". Journal of Posthumanism, vol. 1, no. 2, Dec. 2021, pp. 219-24, doi:10.33182/jp.v1i2.1840.
Section
Dossier: Philosophical Posthumanism Session at the 42nd Annual KJSNA Meeting
License
CC Attribution-NonCommercial-NoDerivatives 4.0