Dialogue on Posthuman Life, Death and COVID-19
Keywords:
COVID-19 , Death , Dialogue , Posthuman, Posthuman Life
Abstract
This interview between Francesca Ferrando (New York University) and Asijit Datta (University of Calcutta) is an extended and exhaustive effort to weigh the pressing concerns of posthuman life, death, and philosophy in times of the Covid-19 pandemic. Philosophical discourse on matters related to dualism, humanism, anthropocentrism, during a phase when exposed human bodies are susceptible to a deadly, mutating virus itself, warrants some paradoxical attention. There has never been a more suitable age and a period to discuss the onto-epistemological anxieties against the background of biotechnological advancements. Akin to an inverse ouroboros, the latest medical equipment or a favourable vaccine for diseases is part of the reparation process undertaken to balance out the damage perpetrated by capitalism. Questions from the interviewer traverse topics involving the Anthropocene, non-human animals/others, genetic mutations, ethnic crises, ethical response towards the dead, posthumanism as spirituality, and the posthuman multiverse.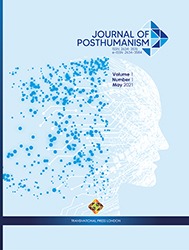 Downloads
How to Cite
Ferrando, F., and A. . Datta. "Dialogue on Posthuman Life, Death and COVID-19". Journal of Posthumanism, vol. 1, no. 1, June 2022, pp. 107-20, doi:10.33182/jp.v1i1.1281.
Section
Commentaries & Interviews
License
CC Attribution-NonCommercial-NoDerivatives 4.0