About the Journal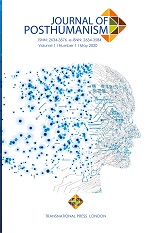 Journal of Posthumanism is an international multilingual peer-reviewed scholarly Open Access journal promoting innovative work to transverse the fields ranging from social sciences, humanities, and arts to medicine and STEM. In line with the efforts of creating a broad network beyond disciplinary boundaries, the journal seeks to explore what it means to be human in this technologically-saturated, ecologically damaged world, and transcend the traditional conception of the human while encouraging philosophical thinking beyond humanism.
With its post-centralized (un)structure, it aims to open up new possibilities in reconfiguring the integral and dynamic multi-scalar relationality between the human and more-than-human world, the clear-cut boundaries of which are eroding. Perceiving the human in critical enmeshment with the more-than-human world, thus, the journal aims to deconstruct the long-held but ineffectual hierarchical divide between various species, different ethnic groups, cultures, sexualities, genders, and worlds, and reflect the embodiment of their interwoven differences. It also places significant emphasis on the breakthroughs in biomedicine, biotechnology, bioengineering, and computer technologies, including humanoid robots and AI, stem cell technologies, gen-design/editing technologies, reproduction technology, artificial gametes, synthetic drugs, artificial organ transplantation, plastic surgery, body modification and augmentation, xenotransplantation, and animality. All of these technologies change how we understand and interpret the world and help us re-describe the posthuman condition we are living in.
The journal additionally responds to the impacts of these developments on various landscapes, dimensions, environments, climates, life forms, and biodiversity. The journal is interested in enriching dialogue among scholars, academics, practitioners, policymakers, and students working in/with numerous different fields and in encouraging the posthumanist ethos and praxis.
Journal of Posthumanism aims to be abstracted and indexed in mainstream platforms including ERIH Plus, RePEc, Scopus, and Web of Science.
---
Code of Conduct and Publishing Ethics
Journal of Posthumanism follows the rules of publication ethics to ensure academic objectivity and rigour of the journal. Transnational Press London is committed to maintaining the publication ethics standards. We, therefore, ask that all contributors and reviewers adhere to publishing ethics. Further guidance can be found through  Transnational Press London Publishing Ethics Policy which closely follows the COPE guidelines.
---
Open Access Policy
This journal provides free access to its content subject to funding available. 
Article Processing Charges
Journal of Posthumanism DO NOT normally charge any fees for submission or publication.
However, the following OPTIONAL fees can be applicable on request:
To obtain an invoice and settle the fees, please email sales@tplondon.com indicating the Journal title, name(s) of author(s) and the title of the paper.
Journal History
Journal of Posthumanism was launched in 2020  as an international peer-reviewed journal supported by an international editorial advisory board.
Copyright © 2020-2022 Journal of Posthumanism / Transnational Press London | All rights reserved