The Body is Infinite/ Body Intelligence
Ontohacking Sex-Species and the BI r/evolution in the Algoricene
Keywords:
Age of algorithms, Body Intelligence, Metaformance, Metahumanism, Ontohacking
Abstract
Body Intelligence is the body's capacity to vary, understood as fluctuating field whose primordial sense is proprioception, inherited form 4 billion years of bacterial sex and simbiogenesis. Ontohacking/metaformance techniques to unfold BI are proposed in face of a millennia old tendency to reduce sensorimotor plasticity, linked to systems of domination and exponentially expanding in current hypercolonial, transhumanist dystopias of control and AI.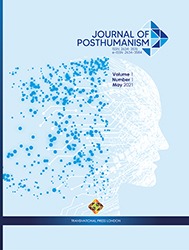 Downloads
How to Cite
del Val, J. "The Body Is Infinite/ Body Intelligence: Ontohacking Sex-Species and the BI r/Evolution in the Algoricene". Journal of Posthumanism, vol. 1, no. 1, June 2022, pp. 53-72, doi:10.33182/jp.v1i1.1447.
Section
Articles [Politics & IR]
License
CC Attribution-NonCommercial-NoDerivatives 4.0