Apples and Oranges: Refugees' Right to Work versus Economic Migrants' Privilege to Work
Keywords:
Right to work, refugees, immigrants, South Africa, employers, asylum seekers
Abstract
The nationalistic and xenophobic movement Operation Dudula has been leading demonstrations throughout South Africa claiming that foreigners are taking South African jobs and that there are 'no wars in Africa' to warrant African immigrants' special treatment. This xenophobic movement blames immigrants (an umbrella term for immigrants, cross-border migrants, economic migrants, asylum seekers and refugees) for societal collapse and challenges the legality of their border crossings. The movement calls the immigrants 'criminals' and pressures domestic government officials to deny them the right to work. The conflation of economic migrants with asylum seekers continues in the South African landscape, confusing employers, the general public, and officials at the Department of Home Affairs (DHA). The notion that 'no foreigner must be employed ahead of a South African' is at the crux of the debates about immigrants' right to employment. Yet, there is not a clear demarcation between asylum seekers' right to work versus the economic migrants' privilege to work. This confusion of legal categories has led to apples and oranges debates in immigration law domestically and internationally. Through interviews with non-governmental (non-profit) organisations (NGOs/NPOs), employers, industry associations, government officials, and immigration attorneys, and an examination of international and domestic laws and norms, this paper suggests a reframing of how the right to work is analysed and how the employers respond.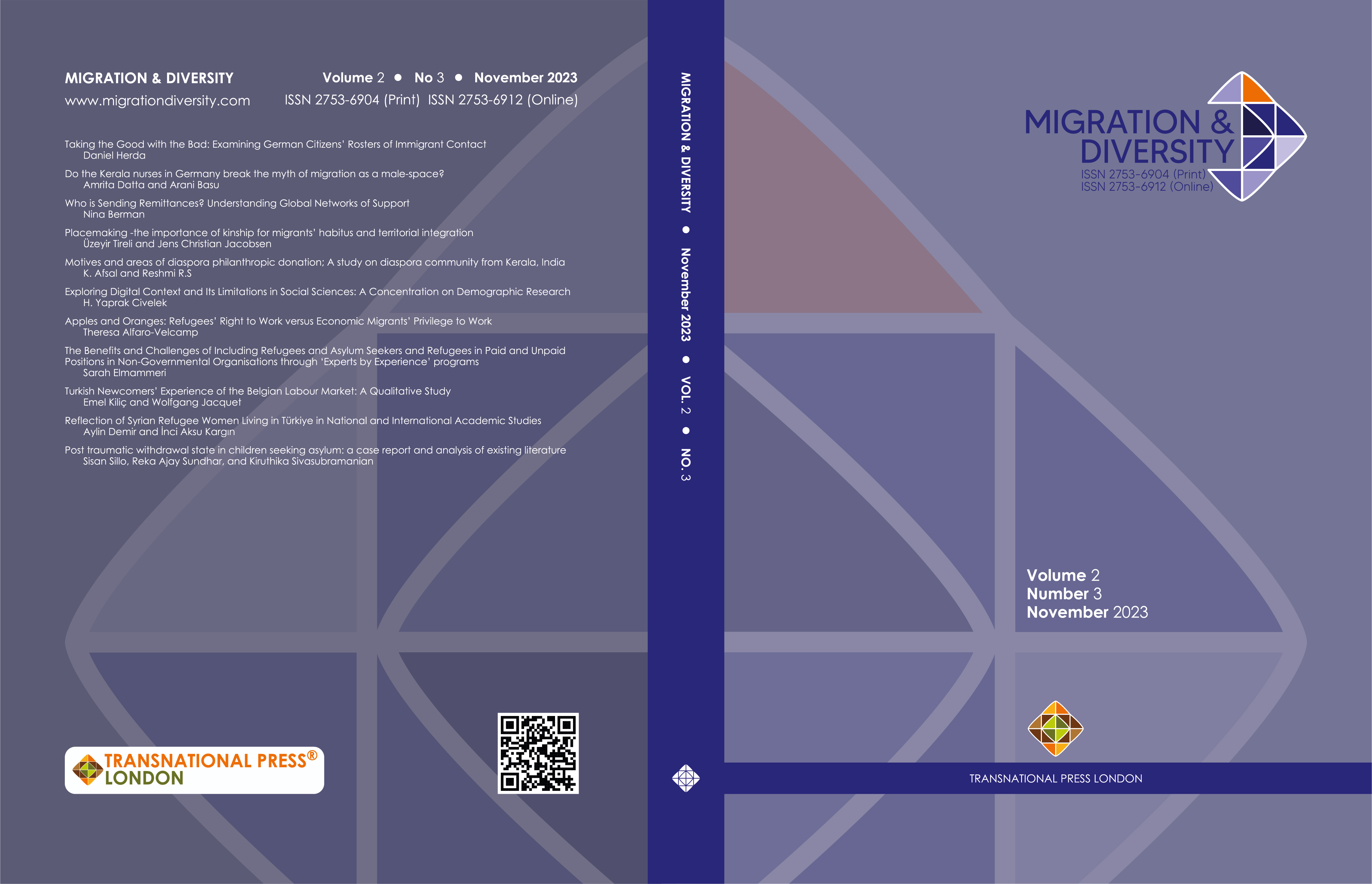 Downloads
How to Cite
Alfaro-Velcamp, T. . (2023). Apples and Oranges: Refugees' Right to Work versus Economic Migrants' Privilege to Work . Migration and Diversity, 2(3), 383–396. https://doi.org/10.33182/md.v2i3.3158
License
Copyright (c) 2023 Theresa Alfaro-Velcamp
This work is licensed under a Creative Commons Attribution-NonCommercial-NoDerivatives 4.0 International License.
CC Attribution-NonCommercial-NoDerivatives 4.0