About the Journal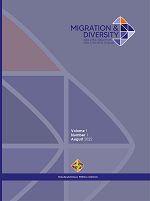 Migration and Diversity is an international peer-reviewed journal of migration studies covering scholarly debates and research on migration, diasporas, refugees, asylum seekers, remittances, international and internal population movements, economics of migration, migration-development nexus, integration, diversity in reference to ethnicity, race, migration, and cultural groups. Migration and Diversity is home to multidisciplinary debates and invites contributions from all social science disciplines including Anthropology, Economics, Geography, History, International Relations, Law, Management, Political Science, Psychology, Public Health, Sociology, Social Policy, Social Work and cognate areas. Migration and Diversity publishes original research articles, reviews, commentaries, debates, viewpoints, case studies, book reviews, project and conference reports and data presentations.
Migration and Diversity is published three times a year in March, July and November. 
Migration and Diversity is indexed and abstracted in RePEc, EconPapers, Central and Eastern European Library (CEEOL), and Google Scholar.
ISSN 2753-6904 (Print)
ISSN 2753-6912 (Online)