Posthumanisms beyond Disciplines
Keywords:
Posthumanism, Posthumanisms, Transhumanism, Ecology, Technology, Posthuman condition
Abstract
Posthumanism and its core ideas have been spreading in different parts of the world and in various areas of human interest as a response to the multi-faceted problems human and more-than-human worlds are facing. While scholars such as Stacy Alaimo, Karen Barad, Rosi Bradoitti, Donna Haraway, Katherine Hayles, and Cary Wolfe led Posthumanism as a distinct literary and philosophical movement in the late twentieth and early twenty-first centuries, it is rooted in postmodern thinking and its criticism of modernity and humanism, as seen in Ihab Hassan's work. The human-centric subjectivity of modernity and its logocentricity found its climax in the Enlightenment, which paved the way for the Industrial Revolution in the following century. Through colonialism, modernity and its ideals have become global phenomena, as indigenous cultures have been subsumed under modernity's principles, and some have gradually disappeared as a consequence. Those who have survived became exotic objects for the modern gaze.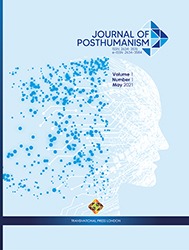 Downloads
How to Cite
Buran Utku, S., C. Dedeoglu, P. Kümbet, and Y. . Tuncel. "Posthumanisms Beyond Disciplines". Journal of Posthumanism, vol. 1, no. 1, June 2022, pp. 1-4, doi:10.33182/jp.v1i1.1510.
License
CC Attribution-NonCommercial-NoDerivatives 4.0