On Transhumanism: The most dangerous idea in the world?!
Keywords:
Non-Paternalistic, Radical Plurality, Transhumanism
Abstract
This hot-off-the-press publication On Transhumanism by Stefan Lorenz Sorgner operates as a precise navigation tool through dense epochal complexities in which the long-established notion of human as an exclusive onto-epistemic benchmark gets thoroughly re-examined. The book offers a wide range of autonomous socio-philosophical conceptual and ethical takes on the contemporary issues drawn from the transhumanist repertoire, some of which are considered quite contentious. This is a book on philosophical Transhumanism and its conceptual correlatives, Posthumanism and Humanism, displayed in high variety of their multiple arrangements. It is written from the perspective of a sui generis metahumanist reasoning, a position that provides an in(ter)dependent horizon that neither uncritically celebrates the most controversial transhumanist ideas nor simply rejects them on the basis of mere neophobia and/or indisputable conservative morality.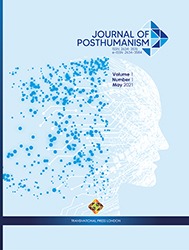 Downloads
How to Cite
Talovic, A. "On Transhumanism: The Most Dangerous Idea in the world?!". Journal of Posthumanism, vol. 1, no. 1, May 2021, pp. 125-8, doi:10.33182/jp.v1i1.1491.
License
All rights reserved © 2020 Transnational Press London