Posthumanism and higher education: Reimagining pedagogy, practice and research
Keywords:
Higher education, Palgrave Macmillan, Pedagogy, Posthumanism, Practice, Research
Abstract
This lively, innovative book makes a strong case for how we might, and must, engage multi-modally with more-than-human co-students/researchers/pedagogues in Higher Education (HE) in ways that attend to urgent matters of social justice and sustainability. It builds capacity for ethical responses to neocolonial HE systems where human exceptionalism is taken for granted. It explores posthuman creative research and pedagogical practices that "push-back against the panopoly of neoliberal measurement technologies" (2). Carol A. Taylor and Annouchka Bayley have carefully edited this collection to take readers on a provocative wander with posthuman education practices that embrace the material world as affective and inseparable from knowledge-making, deploying diffractive methodologies that widen ideas about what data are and how data are produced. The 21 chapters investigate novel ways of attending to and valuing material-discursive learning with posthumanist frameworks to advocate for responsible, affirmative pedagogy and research.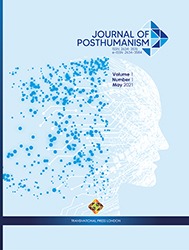 Downloads
How to Cite
Barr, K. E. "Posthumanism and Higher Education: Reimagining Pedagogy, Practice and Research". Journal of Posthumanism, vol. 1, no. 1, May 2021, pp. 121-4, doi:10.33182/jp.v1i1.1368.
License
All rights reserved © 2020 Transnational Press London