Posthuman Media Studies
Keywords:
Counter-memory, Informational ontology, Modulation, Nomadic ethics, Posthuman media studies, Processes of subjectivation
Abstract
In connection with emerging scholarship in the digital humanities, media genealogy, and informational ontology, this paper begins the process of articulating a posthuman approach to media studies. Specifically, this project sheds new light on how posthuman ethics, ontology, and epistemology can be applied in order to develop new methodologies for media studies. Each of these approaches builds upon the foundation of an informational ontology, which avoids the necessity for pre-existing subjects that transmit messages to one another within a cybernetic paradigm. Instead, a posthuman paradigm explores methods that include counter-actualization, modulation, and counter-memory. Posthuman media studies emphasizes the need for experimentation in developing new processes of subjectivation and embraces an affirmative posthuman nomadic ethical subjectivity, linking true critique to true creation.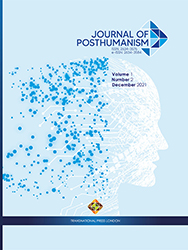 Downloads
How to Cite
Sylvia IV, J. "Posthuman Media Studies". Journal of Posthumanism, vol. 1, no. 2, Dec. 2021, pp. 139-51, doi:10.33182/jp.v1i2.1360.
License
CC Attribution-NonCommercial-NoDerivatives 4.0