Posthuman Archaeologies, Archaeological Posthumanisms
Keywords:
Archaeology, Collaboration, Non-humans, Posthumanism, Multiplicities, Scale
Abstract
This paper maps and builds relations between posthumanism and the field of archaeology, arguing for vital and promising connections between the two. Posthuman insights on post-anthropocentrism, non-human multiplicities, and the minoritarian in the now intersect powerfully with archaeology's multi-temporal and long-term interests in heterogenous and vibrant assemblages of people, places, and things, particularly the last few decades of 'decolonial' re-imaginings of the field. For these reasons, we frame archaeology as the historical science of posthumanism. We demonstrate the discipline's breadth through three vignettes concerning archaeology's unique engagements with multiplicities of objects, multiplicities of scales, and multiplicities of people. These examples, we argue, speak to the benefits of becoming posthuman archaeologists and archaeological posthumanists.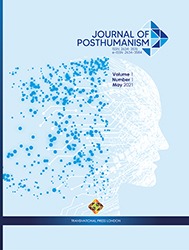 Downloads
How to Cite
Cipolla, C., R. J. Crellin, and . O. J. . Harris. "Posthuman Archaeologies, Archaeological Posthumanisms". Journal of Posthumanism, vol. 1, no. 1, May 2021, pp. 5-21, doi:10.33182/jp.v1i1.1357.
Section
Articles [Politics & IR]
License
All rights reserved © 2020 Transnational Press London