Chinese Kung-fu Films and the Posthuman Daoism
Keywords:
Body aesthetics, Calligraphy, Daoism, Kung-fu, Yin-yang assemblage
Abstract
This paper argues that Chinese- Kung-fu films are unique presentations of human movement as a system of bodily aesthetics. By adopting a Daoist aesthetics of yin-yang cosmology, martial artists perform the dictum by Zhuanzi's "The myriad things come out of ji and go into ji", with the character ji as some kind of the Deleuzian "desiring machine". There we see a human-technicality convergence as characterized by a posthuman merger within the process of complex visuality, particularly presented through the cinematic form. Kung-fu performance on screen, therefore, affords a kind of natural cyborg intersectionality within what can be called a posthuman Daoism, a kind of commingling of the ancient and posthuman technics.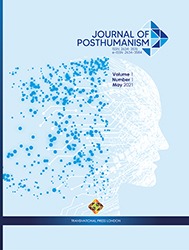 Downloads
How to Cite
Wong, K. Y. "Chinese Kung-Fu Films and the Posthuman Daoism". Journal of Posthumanism, vol. 1, no. 1, May 2021, pp. 73-86, doi:10.33182/jp.v1i1.1351.
Section
Articles [Politics & IR]
License
All rights reserved © 2020 Transnational Press London