Pink Chicken Project
Keywords:
Aeology, Biotechnology, Factory farming, Geology, Speculative art
Abstract
The Pink Chicken Project is a story to build other stories on; a speculative stirring that ties together multiple interlocking systems of ecological and social crisis. Seemingly paradoxical, the project rejects the current violence inflicted upon the non-human world, but is itself an act of violence through the non-consensual modification of the bodies of billions of chickens. It poses questions concerning the impact and power of synthetic biology and gene drives, but uses the very same technologies to formulate the critique. It highlights the unfathomable scale of industrial agriculture and factory farming, while at the same time depending on these systems as a vessel for its manifesto.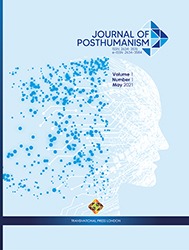 Downloads
How to Cite
Nonsense, N. . "Pink Chicken Project". Journal of Posthumanism, vol. 1, no. 1, May 2021, pp. 129-37, doi:10.33182/jp.v1i1.1349.
License
All rights reserved © 2020 Transnational Press London