About the Journal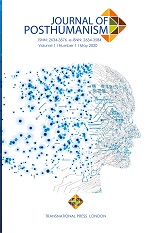 Journal of Posthumanism is an international multilingual peer-reviewed scholarly Open Access journal promoting innovative work to transverse the fields ranging from social sciences, humanities, and arts to medicine and STEM. In line with the efforts of creating a broad network beyond disciplinary boundaries, the journal seeks to explore what it means to be human in this technologically-saturated, ecologically damaged world, and transcend the traditional conception of the human while encouraging philosophical thinking beyond humanism.  
Journal of Posthumanism is abstracted and indexed in:
Central and Eastern European Online Library (CEEOL)
Journal Founded: 2020
ISSN 2634-3576 (Print) | ISSN 2634-3584 (Online)
Publication Frequency: Three Issues a year in Winter, Summer and Fall from 2022 onwards.