About the Journal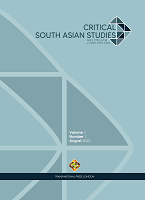 Critical South Asian Studies (CSAS) is a bi-annual, peer-reviewed international Open Access journal. Interdisciplinary in nature, the journal focuses on literary, media and cultural studies. The journal invites theoretical submissions from these areas to explore and understand the varied contexts that define South Asia and its people. The CSAS journal is home to scholarly debates among scholars from Asia, Americas, Africa and Europe.
ISSN: 2753-6734 (Print) ISSN: 2753-6742 (Online)
Critical South Asian Studies is published twice a year in February and August.