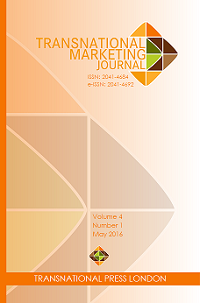 Transnational Marketing Journal (TMJ) is dedicated to publishing high quality contemporary research into transnational marketing practices and scholarship while encouraging critical approaches in the development of marketing theory and practice. TMJ is a journal which promotes and show-cases current research into marketing practices and challenges with an emphasis and relevance to cross border practices, issues, challenges facing marketers and researchers alike.
ISSN: 2041-4684 | e-ISSN: 2041-4692
The abbreviated title: Transntl. Market. J.
Transnational Marketing Journal is indexed and abstracted by SCOPUS and EBSCO among others.
No announcements have been published.

Open Access

Subscription or Fee Access
Table of Contents
Editorial
Articles
| | | |
| --- | --- | --- |
| | Boutheina Ben Gamra, Azza Temessek Behi | 105-130 |
| | Samia Youssry Warda | 131-160 |
| | Philipp G Stahl, Nathalia C Tjandra, Alessandro Feri, Kristen Marshall | 161-186 |
| | Mosa Alokla, Mais Alkhateeb, Muneer Abbad, Faten Jaber | 187-210 |
| | Benjamin Silas Bvepfepfe | 211-228 |
| | Andrej Přívara, Eva Rievajová | 229-244 |
Case Studies
| | | |
| --- | --- | --- |
| | Iva Slivar, Uglješa Stankov, Vanja Pavluković | 245-256 |
Book Reviews