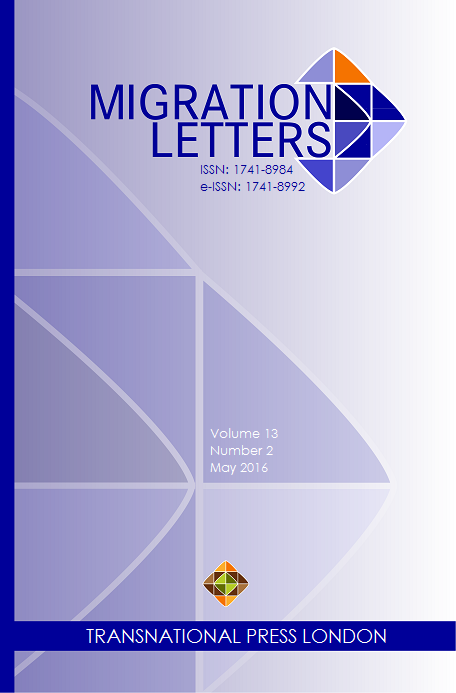 Migration Letters is an international leading scholarly journal for researchers, students, scholars who investigate human migration as well as practitioners and quick dissemination of research in the field through its letter type format enabling concise sharing of short accounts of research, debates, case studies, book reviews and viewpoints in this multidisciplinary field of social sciences. Migration Letters is the first ever letter-type journal in migration studies launched in 2004. It is following a strict double blind peer review policy for research articles. It is published four times a year in January, April, July and October.
ISSN: 1741-8984 | e-ISSN: 1741-8992
The abbreviated title of Migration Letters journal is: Migrat. Lett.
Migration Letters is abstracted and indexed widely including by SCOPUS and Web of Science.
No announcements have been published.
Special Issue: Participatory Methods in Migration Research
Guest Edited by Diana Mata-Codesal, Laure Kloetzer, Concepción Maiztegui-Oñate
Table of Contents
Front Matter
Editorial
| | | |
| --- | --- | --- |
| | Diana Mata-Codesal, Laure Kloetzer, Concepción Maiztegui-Oñate | 201-210 |
Special Issue Articles
| | | |
| --- | --- | --- |
| | Martha Adelia Montero-Sieburth | 211-218 |
| | Elsa Oliveira, Jo Vearey | 219-228 |
| | Derya Ozkul | 229-237 |
| | Aaron Malone | 239-247 |
| | Marit Aure, Anniken Førde, Rebekka Brox Liabø | 249-256 |
| | Valerie Francisco-Menchavez, Ethel Tungohan | 257-264 |
| | Magdalena Arias Cubas | 265-277 |
| | Tiina Sotkasiira, Sanna Ryynänen, Anni Rannikko, Päivikki Rapo | 279-288 |
| | Valerie Stam | 289-297 |
| | Flora Di Donato | 299-307 |
Articles
| | | |
| --- | --- | --- |
| | Henry Laverde-Rojas, Juan C. Correa | 309-324 |
| | Jin Woong Kang | 325-338 |
| | Pascual Gerardo Garci­a, Ronaldo Munck | 339-348 |
| | Kari Kristinsson, Margret Sigrun Sigurdardottir | 349-356 |
| | AKM Ahsan Ullah, Md. Akram Hossain, Mohammad Azizuddin, Faraha Nawaz | 357-368 |
| | Andrej Přívara, Eva Rievajová, Adina Barbulescu | 369-377 |
| | Ibrahim Sirkeci, Mustafa Murat Yucesahin | 379-398 |
Book Reviews