Book reviews
Keywords:
Roma, Gypsies, Gypsy Economy, Gypsy Studies, Work
Abstract
Review of the following books: 
Brazzabeni, M., M. I. Cunha & M. Fotta (Eds). 2016. Gypsy Economy: Romani Livelihoods and Notions of Worth in the 21st Century. New York: Berghahn Books.
Lech Mróz (2015). Roma-Gypsy Presence in the Polish-Lithuanian Commonwealth, 15th-18th Centuries. Budapest: Central European University Press.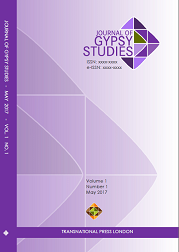 How to Cite
Cupelin, E. K., & Sirkeci, I. (2017). Book reviews. Journal of Gypsy Studies, 1(1), 85-88. https://doi.org/10.33182/jgs.v1i1.531
Copyright © 2020 Transnational Press London