Romani People and the 'Right to the City': Gentrification in Fevzipasa, Canakkale, Turkey
Keywords:
Gentrification, right to the city, Romani rights, Turkey
Abstract
Canakkale city centre has been home for many different ethnicities from the past to our present day. In time, the city centre was also defined as a protected area due to its historical and cultural value. However, major infrastructure, urban renewal, and transformation projects have emerged in the agendas of both public authorities and the private sector. Similar to the rest of the world, in Turkey, Romani people are amongst the first groups to face the discriminating and excluding effects of such projects. This study aims to explore the relationship between gentrification and the violation of Romani people's 'right to the city' with a focus on the Romani neighbourhood of Fevzipasa, Canakkale.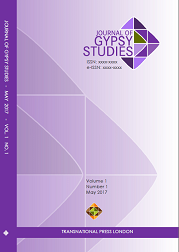 How to Cite
Öner, R. V., & Şimşek, A. A. (2017). Romani People and the 'Right to the City': Gentrification in Fevzipasa, Canakkale, Turkey. Journal of Gypsy Studies, 1(1), 49-64. https://doi.org/10.33182/jgs.v1i1.529
Copyright © 2020 Transnational Press London