Editorial: Introducing the Journal of Gypsy Studies
Keywords:
Editorial, new journal, gypsy, Romani
Abstract
After much preparation and hard work, we are pleased to release this inaugural issue of the Journal of Gypsy Studies which is an international, peer-reviewed journal aiming to publish quality and rigorous research and scholarship, as well as intellectual conversations/interviews, book reviews, conference reports, viewpoints, and letters on the groups known as and associated with Gypsies. As the production of academic work pertaining to the cultural, social, economic, and political lives of Gypsies is increasing, there is a need for research and theoretical contributions that centre on issues of poverty, discrimination, the sedentary/nomad divide, migration, urban policies, and citizenship and identity, among others. This is particularly important as right-wing political parties are on the rise in many countries where Roma/Gypsies live. Universities that have been influential in Romani studies are being threatened with closure, and Roma/Gypsies face violent attacks and forced evictions everyday. Although some governments and international organizations engage more and more with Roma/Gypsy organisations and development and inclusion programs, tangiable change is rare on the ground.
This journal has been created by the hard work and dedication of a small team of academics initiated by Başak Akgül, Doğa Elçin, and Ibrahim Sirkeci in 2015 and among several brilliant colleagues who offered help and support, including Özge Burcu Güneş, Deniz Eroğlu Utku, Danielle V. Schoon, and Margarite Blignaut. We are grateful for their support as well as many colleagues who joined the editorial boards and served as reviewers.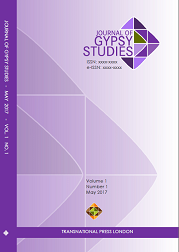 How to Cite
Güneş, Özge B., Akgül, B., Schoon, D. V., Sirkeci, I., & Eroğlu Utku, D. (2017). Editorial: Introducing the Journal of Gypsy Studies. Journal of Gypsy Studies, 1(1), 1-3. https://doi.org/10.33182/jgs.v1i1.525
Copyright © 2020 Transnational Press London