Transnational Press London (TPLondon) is an independent publisher of academic and professional journals, periodicals, magazines, books and catalogues. Currently the journal portfolio includes several periodicals including Migration Letters, Transnational Marketing Journal, Remittances Review, Göç Dergisi, Border Crossing, Kurdish Studies, International Journal of Religion, Journal of Gypsy Studies.

TPLondon's mission is to foster scholarly research and widen the reach to get audiences the books and articles that matter at affordable prices.
A B C D E F G H I J K L M N O P Q R S T U V W X Y Z All
Transnational Marketing Journal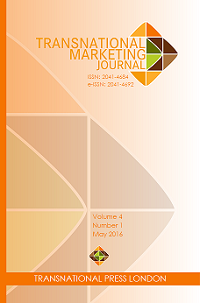 Transnational Marketing Journal (TMJ) is dedicated to publishing high quality contemporary research into transnational marketing practices and scholarship while encouraging critical approaches in the development of marketing theory and practice. TMJ is a journal which promotes and show-cases current research into marketing practices and challenges with an emphasis and relevance to cross border practices, issues, challenges facing marketers and researchers alike.
ISSN: 2041-4684 | e-ISSN: 2041-4692
The abbreviated title: Transntl. Market. J.
Transnational Marketing Journal is indexed and abstracted by SCOPUS and EBSCO among others.
View Journal | Current Issue | Register
1 - 1 of 1 Items