About the Journal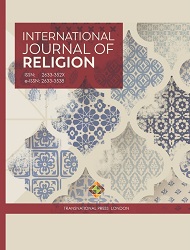 International Journal of Religion, A Journal of Politics, Sociology, Culture  (IJOR) is a multidisciplinary peer-reviewed journal aiming to offer a venue for scholarly discussion on religion in reference to the social sciences and humanities. International Journal of Religion aims to fulfil the need for critical discussion on how religion affects economics, society, politics, international relations, geography, anthropology, education, business and management, health, and the arts. International Journal of Religion invites articles with rigorous analysis, reflecting theoretical insights or persuasive empirical evidence. The journal aims to bring into mutually beneficial dialogue, all those - including, policymakers, practitioners, educators, scholars, researchers, and students - interested in these crucial, controversial and topical conversations. The overall objective is to inform understanding of how religion impacts on many areas of human interaction.
International Journal of Religion is indexed and abstracted in ERIH Plus and RePEc and currently under review by several other indexing and abstracting services.
The Journal follows a strict double-blind review policy embedded in our general publishing ethics and supported by rigorous academic scrutiny of papers published.
Journal Founded: 2019 | ISSN: 2633-352X (Print) | ISSN: 2633-3538 (Online) | Publication Frequency: Two issues a year
Open Access Policy
This journal provides free access to its content subject to funding available. Authors or their funders can make their articles freely accessible by paying Article Processing Charge (APC) at: https://www.tplondon.com/product/oaf/.
Code of Conduct and Publishing Ethics
Transnational Press London is committed to maintaining the highest
publication ethics
standards. We, therefore, ask that all contributors and reviewers adhere to publishing ethics. Further guidance can be found through the
COPE Core Practices
and on the 
COPE website
.
Publishing Ethics and Malpractice Statement
Transnational Press London follows the guidelines of publishing ethics. We value the importance of academic rigour and peer-review process in ensuring the development of a coherent and respected knowledge. These evaluations ensure the quality of work and referred to by the institutions and interested public. This community of academic publishing involves the author(s), the journal editor, the peer reviewers, and the publishers.
Our editors have a duty to fair play, ensuring confidentiality, disclosing conflicts of interest where applicable and cooperation in investigations when needed regarding publication decisions in line with the editorial preferences and goals of the journals.
Reviewers are expected to contribute to editors' decisions by promptly and objectively reviewing and commenting on the papers they are assigned to review while also maintaining the confidentiality and disclosing conflicts of interest where applicable and known.
Authors are required to abide to reporting standards, maintain the originality of submitted papers, avoid plagiarism as well as avoiding multiple submissions and concurrent publications. They are required to acknowledge the resources and authorship of papers submitted. They are required to disclose any conflict of interest. Authors are required to disclose any fundamental errors in published works so these can be publicised and rectified if possible.
The Publisher is committed to ensuring objectivity in academic review and publication process. Hence the Publisher avoids advertising, reprint or other commercial interest has no impact or influence on editorial decisions.
Fees and charges
International Journal of Religion: Politics, Sociology, Culture DO NOT normally charge any fees for subscription or publication.
However, the following OPTIONAL fees can be applicable for special sponsored or self-funded projects enabling Open Access publication :
Published authors who paid these fees are also provided subscription to the Journal's online content for 12 months.
To obtain an invoice and settle the fees, please email sales@tplondon.com indicating the Journal title, name(s) of author(s) and the title of the paper.
Journal History
International Journal of Religion: Politics, Sociology, Culture was launched in 2020 by Prof Jeffrey Haynes, and Dr Erdi Ozturk. 
Copyright © 2020-2022 International Journal of Religion: Politics, Sociology, Culture / Transnational Press London | All rights reserved