About the Journal
The Journal of Ecohumanism is an international peer-reviewed journal of scholars, researchers, and students who investigate ecohumanist and civil narratives in the fields of Environmental Humanities, Citizen Humanities, Literary Theory and Cultural Criticism, enabling short accounts of research, debates, study cases, book reviews in this interdisciplinary field of Humanities. The Journal of Ecohumanism seeks to explore issues beyond the "ecocentric-anthropocentric" binary and to examine the changing status of subjectivity, agency, and citizenship today through the complex relations between nature and techno-culture while encouraging a philosophical rethinking of citizenship in a more-than-human world.
ISSN 2752-6798 (Print) | ISSN 2752-6801 (Online)
FB page: [https://www.facebook.com/ecohumanismjournal/]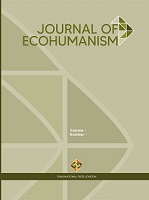 Articles submitted to the Journal of Ecohumanism are published online and in print. The Journal follows a strict double-blind review policy embedded in our general publishing ethics and supported by rigorous academic scrutiny of papers published.
Journal of Ecohumanism is indexed and abstracted by  Research Papers in Economics (RePEc) |Central and Eastern European Online Library (CEEOL) |  China Academic Journals Database (CNKI Scholar) | ERIH PLUS (Erih Index) | Norwegian Register for Scientific Journals (NSD) | American Sociological Association's Publication Options Journal Directory. 
Journal Founded: 2021 | Publication Frequency: Two issues a year in January and July.
ISSN: 2752-6798 (Print) | ISSN: 2752-6801 (Online)